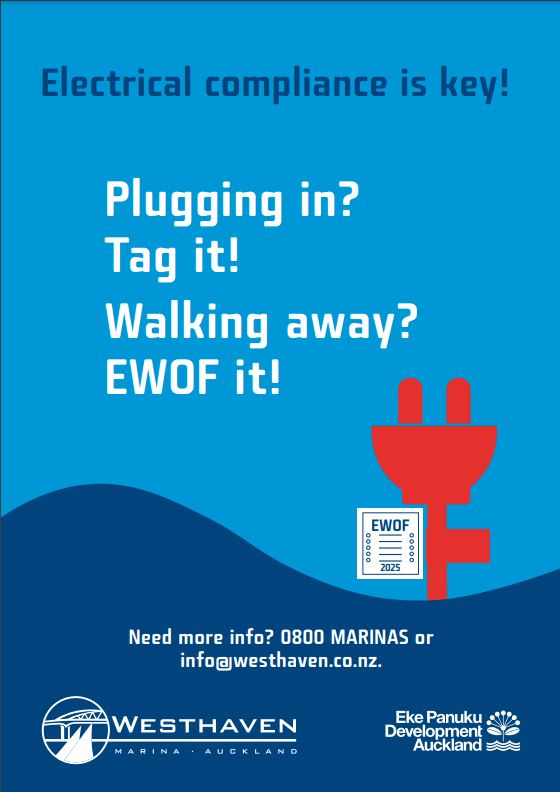 Westhaven Marina's electrical connect policy is aligned with the New Zealand Marina Operators (NZMOA) Industry standard. Westhaven Marina policy is designed to keep your vessels and the marina safe! There are three categories of power supply to vessels.  
1. Unattended Power Connection (UPC): Is where your boat has an Electrical Warrant Of Fitness (EWOF) and the lead you connect to your pedestal is Tag Tested (TT). EWOF expire every FOUR years, and TT expires ANNUALLY.  You will get a reminder from the Customer Service Team the month before the expiry dates to give you plenty of time to get compliant again. IF either the EWOF or TT are out of date, you must not leave your vessel unattended.
2. Attended Power Connection (APC): This is when your vessel does not have an EWOF, and you simply want to connect to the pedestal occasionally while you are onboard the vessel.  To have an attended power connection you must have a valid TT, and you must remain onboard for the time you are plugged in.  You must NOT leave the vessel plugged in and unattended.  If the dockmasters find this, they will unplug the power supply.
3. No Power Connection (NPC): If you never want to plug in, you don't have an EWOF, or TT.  Power will not be supplied to the pedestal if you elect an NPC connection.
There are a number of electrical contractors available at Westhaven, please refer to the contractors directory.