About
Environment and Sustainability
Obi Wan Cleanobi
Meet Obi Wan Cleanobi, the marina-cleaning robot!

This uncrewed surface vehicle (USV) is used to remove waste from the wai tai (sea water) of Auckland's waterfront. A very versatile device, Obi can not only scoop up floating trash, monitor vessels, and it can also be deployed to clean up oil spills with the ability to attach an oil boom to the front.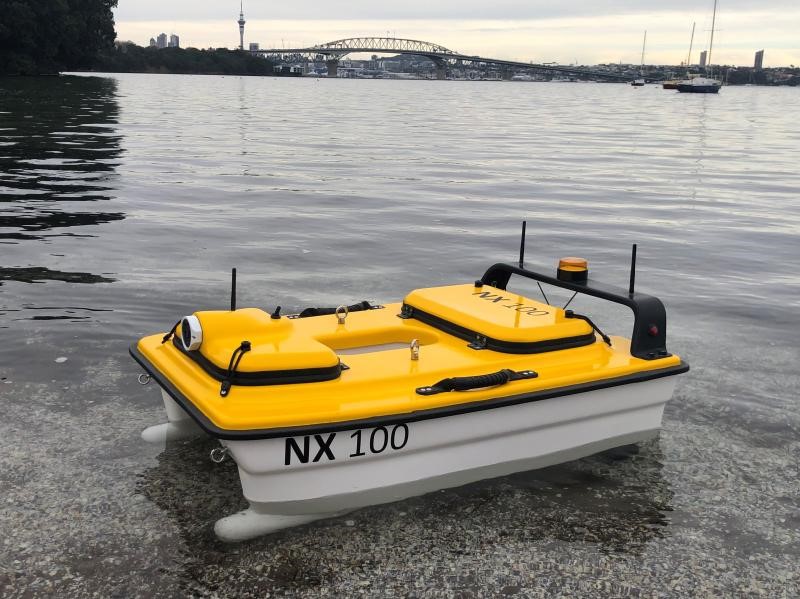 A new robot hero has come to Tāmaki Makaurau. Its mission: Take out the trash and keep our marina clean and tidy!
Named Obi Wan Cleanobi, the uncrewed surface vehicle (USV) boasts an onboard camera, meaning that it can closely inspect the underside of vessels and the seabed as required. The 350-watt shrouded brushless thrusters will carry our seafaring friend up to 2km into the Waitematā Harbour, using its 80-litre net to catch all sorts of pollutants. It's also well-equipped to handle oil spills, and is fitted with water-quality sensors to keep a watchful eye on our ocean. 
The dedicated crew at Westhaven Marina are thrilled to be welcoming this high-tech environmentalist to their team, and will be more than happy to give demonstrations to marina visitors. 
"This is a huge moment for us here at the marina," enthused Westhaven Marina Manager Karenza Harris. "We're all tremendously passionate about making these waters as clean as possible, so it's wonderful to have Obi Wan Cleanobi joining the team. 
"The device is lightweight, it's got a long lifespan, the batteries are quick and easy to swap, and it's highly manoeuvrable, so we'll really be able to make the most of the sophisticated equipment on board. We can't wait to show it off to everyone who stops by!" 
Come and visit Obi Wan Cleanobi! Stop by Westhaven Marina at Unit 2, 135 Westhaven Drive to see if he's available, or get in touch on +64 9 360 5870 / info@westhaven.co.nz to arrange a visit in advance.
Obi Wan Cleanobi facts!
Manufactured in Aotearoa / New Zealand by NxInnovation Ltd
Lightweight at 16kg
Single-person deployable
Long endurance
Quick-change, swappable batteries
Easy to set up and operate
Long range at up to 2km
Strong and durable construction
Highly manoeuvrable
Onboard camera for first-person view