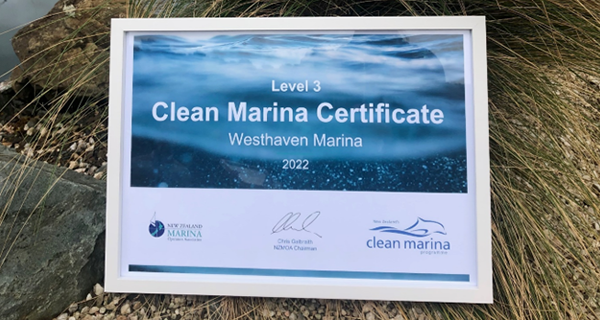 New Zealand Marina Operators Association awards
It was a clean sweep for us at the New Zealand Marina Operators Association (NZMOA) awards night in Blenheim last month and we couldn't be prouder!
Entered in three award categories, we came away as the winner of each; Westhaven Marina was named:
2022 NZMOA Marina of the Year
Winner of the NZMOA Best Environmental Performer award
Winner of the Outstanding Initiative category for the launch of our digital parking management system
We also received NZMOA Clean Marina recertification, which recognises our efforts to minimise the impact the marina has on the environment. Read More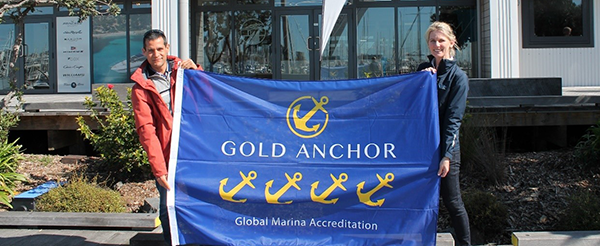 Gold Anchor
It was great to have Marina Industries Association CEO Suzanne Davies visiting last month to present us with our Gold Anchor flag. We are New Zealand's first and currently only Gold Anchor accredited marina.
While presenting the Gold Anchor flag to our quality manager David Marginet, Suzanne said, "It's an amazing achievement and a credit to the Westhaven team in creating such an incredibly comprehensive marine facility."
Keep a look out for the flag flying next time you're down here.
Change of hands for Buoy Café and Eatery
Buoy Café is back and is under new management!
We welcomed Buoy's new team to Westhaven last week and have already sampled some of their delicious coffee and latest menu offerings (including soft serve ice-cream from the blue container outside the café!).
You'll find a range of meal options on offer at Buoy, which is currently open from 6.30am – 4pm Monday to Sunday, with evenings coming soon. Bring on the pizzas and Italian food! Pop in to welcome them if you're in the neighbourhood.
Team update
We're very happy to announce that Gareth Wilson has taken on the role of Westhaven Marina manager.
Some of you will already know Gareth as he's been our maintenance manager since early 2020. As well as managing the team who look after the marina's day-to-day maintenance, Gareth has developed our asset management plan and budgets to ensure our marina assets are taken care of for the next 10 to 20 years.
Having lived up to the challenge of the maintenance manager role, it's fitting that Gareth takes on this new role and works with the Westhaven team to deliver the performance expected of a world class marina.
We're looking forward to the positive outcomes we're going to achieve together.