It's been a tough couple of months for Aucklanders, and like you, the Westhaven Marina team has had to adapt to the Government's COVID-19 level changes. It was welcome news when we reached Alert Level 3 and boating was permitted. Hopefully you have been able to safely get out on the water in the last month. The Westhaven team is working hard to deliver as many of our normal services as possible under some very difficult restrictions, and although the dockmaster team will continue to be always onsite the office will remain closed until restrictions are lifted. We are as always available to you 24/7 on 0800 MARINAS or on VHF 13.
Meet the team - operations team edition
Karenza: Westhaven Marina Manager, Karenza's history with the maritime sector started in 1990 when she joined the NZ Navy and served for 6 years. Since then, Karenza has been in and out of maritime based roles, always being drawn back to the industry. Karenza has been at Westhaven since 2018, and in the role of Marina Manager since January 2020. A self-confessed IT geek, she has been paramount in moving some of the paper-based systems over to digital and has been highly involved in the new website design and development. Mum to three grown daughters, and Nana to three adorable granddaughters, Karenza certainly has her hands full! Currently in her spare time Karenza is completing her MBA through Massey University.
Kevin: Head of Marinas, previously the Marina Manager of Westhaven, Kevin now looks after all Eke Panuku operated marinas including Westhaven, Viaduct and Silo. Kevin has a long history in the marine industry including a two-year stint as General Manager of Polaris Marine in Sydney. His wealth of knowledge will help drive major refurbishment works and facility improvements. Last year Kevin was awarded the Outstanding Individual Contribution award at the NZ Marina Operators Association awards.
David: Quality Manager Marinas, David started his career in the marine industry after becoming a Ship's Master. He became captain of one of the most sought-after superyachts in Barcelona. Seven years later, David moved to New Zealand when a family project provided an opportunity for him to move to our shores. David joined Westhaven Marina in 2017, initially as dockmaster and progressing through different roles, he is now the Quality Manager Marinas, ensuring a smooth-running marina and that Westhaven users get the best experience possible.
Matt: Marina Systems Manager, Matt has a long and varied history within the Information Technology (I.T) sector, primarily in software development. Matt came to Westhaven towards the end of 2019, to help with the implementation of Pacsoft's Marina Management System (MMS/NG), staying on afterwards to provide ongoing user support and help look after systems. To ensure Matt's spare time is kept to a minimum, he has two young teenagers and an old house in constant need of renovation.
EWOF reminders
We are keen to remind our boat users to check their expiry dates on their shore power leads and EWOF. When you get either of these updated, please remember to send the office a picture by emailing info@westhaven.co.nz If you have any questions regarding electrical compliance, please call us on 0800 MARINAS.
Safer boating
Following on from Maritime New Zealand's annual "Safer Boating Week" this is a timely reminder to refresh your knowledge of regional council bylaws and national maritime rules. Make sure you know the speed limits, wear your lifejackets and ensure you have the appropriate channels of communication onboard. Fines of up to $300 can be handed out to boaties for breaches of these. To read up more about the "No Excuses" campaign, head to saferboating.org.nz
Maintenance update
Z Pier: Refurbishment is close to completion with many new corner frames, rods, and walers. This, combined with last year's electrical upgrade, is a great result for Z pier and its users. Still to deliver is the new wastewater plumbing and the exciting Man Overboard System.
AA Pier: The newest pier in Westhaven Marina is finished apart from a few minor components. AA pier (West) is being used to relocate vessels off S pier while the damage received by the tornado in 2019 is repaired.
S Pier: The S pier tornado storm damage combined with the pier refurbishment is underway. 36 vessels have been relocated within Westhaven to allow these works to happen. Keep a lookout for project updates.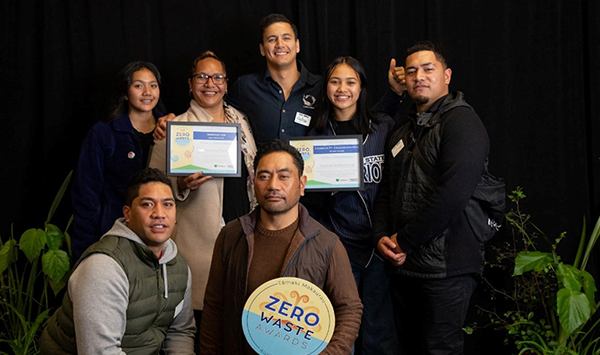 Kai Ika update - food for thought
The Kai Ika Project is a fast-moving success story, and we're proud of their progress over the past five years. The Kai Ika Project is a collaboration between LegaSea, the Outboard Boating Club of Auckland and Papatūānuku Kōkiri marae distributing previously unwanted seafood to communities in need around Auckland.
Last month they were humbled to receive an award at the Tāmaki Makaurau Zero Waste Awards. The team at the Kai Ika Project wish to thank everyone who has used their services, "We couldn't have done it without you avid fishos, so thank you to everyone who has gotten their fish filleted with us".  
As food insecurity is growing, many New Zealanders do not have the privilege of being able to catch fish for their family. Kai Ika is committed to addressing issues around food security. Seafood was once available as an inexpensive, valuable protein, but is getting more expensive and scarcer. Kai Ika Project want to change how people perceive 'waste' by encouraging maximum utilisation of fish. It is still common practice in New Zealand to only use the fillets and discard everything else. The parts of fish often discarded as waste, such as heads and frames, are high in vitamin A, omega-3 fatty acids, iron, zinc and calcium. Kai Ika Project use these parts to feed local communities. But it doesn't end there. For some, food insecurity is not the lack of food available but the struggle to access it in the first place. Kai Ika Project make fish accessible by delivering it directly to communities. 
They want to continue making sure everyone has access to eating fish. You can be a part of this initiative simply by getting your fish filleted. Come down to the Kai Ika filleting trailer at Z Pier or they can collect fish from your boat at the Z Pier jetty. Contact 027 305 2520 and one of their team will meet you on the pier.